A GUIDED ADVENTURE AT THE POPULAR ALGONQUIN PROV PARK, ONTARIO
(Includes accommodation and daily hiking/canoeing activities with an amateur trip leader)
4 Days / 3 Nights
July 31 to August 3, 2019

CAD $378 (about US $290)
EVENT CATEGORY: Guided Hiking/Paddling Trip, Multi-day.
DIFFICULTY LEVEL: Intermediate -- Recent experience hiking and paddling for 2-3 hours or more per day required.

BOOKING: Registration for this trip is now CLOSED
DESCRIPTION
Join a group of outdoor enthusiasts from across Canada and the US, as we immerse ourselves into an authentic Canadian hiking and canoeing experience!

Algonquin Provincial Park is a National Historic Site of Canada. It is the oldest provincial park in Canada, and is renowned for its various lookouts, unique diversity of plant and animal species, large granite rock outcroppings, and expansive coniferous and deciduous forests. Hike beautiful trails, swim, canoe, watch out for the abundant wildlife, make new friends and share stories under the stars.
Spending your days and nights in Algonquin Park is the ideal way to relax, explore nature and get your adrenaline really flowing! An experienced trip organizer will take us to some of the best sites on this side of the park, and make for an adventure that you won't soon forget!


Max 10 participants. We recommend that you register on this website by July 10, to secure your spot.

TRANSPORTATION
Everyone is responsible for their own transportation. We are unable to arrange carpooling or a private transportation service for this adventure.

ACCOMMODATION
We will stay in shared 2-bedroom cottages with one bathroom, full kitchen and living room. The rooms have either a double bed or two single beds (some rooms have a bunk bed for 2 single guests). Our cottages are located in peaceful Madawaska, Ontario, just outside spectacular Algonquin Park on the Madawaska River. Meals are not included.

WHAT TO BRING
Backpack for day use, hat, water bottle, hiking boots, rain jacket, bug spray, sun block, sun glasses, camera, cell phone, hiking poles, towels, toiletry, whistle, snacks.
DIRECTIONS
Location and meeting time will be emailed to all those who register on this website.

COST
$378 CAD (about US $290)
INCLUSIONS (1)
- Cottage accommodation (2)
- Daily hiking and/or canoeig activities
- Canoe rentals
- Event Fee (this covers the PayPal fee and other administrative expenses)

OTHER COSTS
- Transportation and meals not included
- Medical insurance (if not a resident of Canada)
- Other travel or personal expenses paid separately.

Booking Deposit. Due on this site upon registration
CAD $105 pp
(Includes a $25 Event Fee and a $80 REFUNDABLE booking deposit for your room). (3)



TRIP ORGANIZER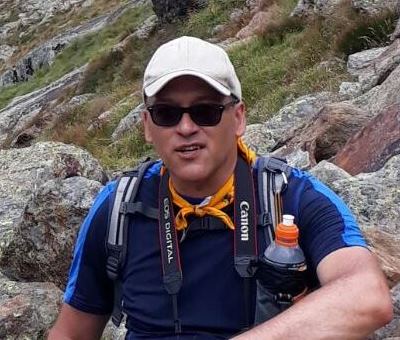 Walter De Marco • He is a worldwide traveler who lives in Toronto, ON and organizes outdoor events and trips for adventure lovers with TorontoHiking, as well as several Meetup groups. He will escort the group and lead all the group activities on this outdoor adventure. You may contact Walter at +1.416.258.7430. Email thats.walter @ yahoo.com

Booking Deadline: Sat, July 20

NOTES
(1) The total amount for the included ACTIVITIES and rentals is $146 CAD/ person. The balance is due on this site by July 20, 2019
(2) Payment for accommodation must be made directly to our local host at the time of check in.
(3) The $25 Event Fee is non-refundable. The booking deposit will be reimbursed to you at the time of check in.