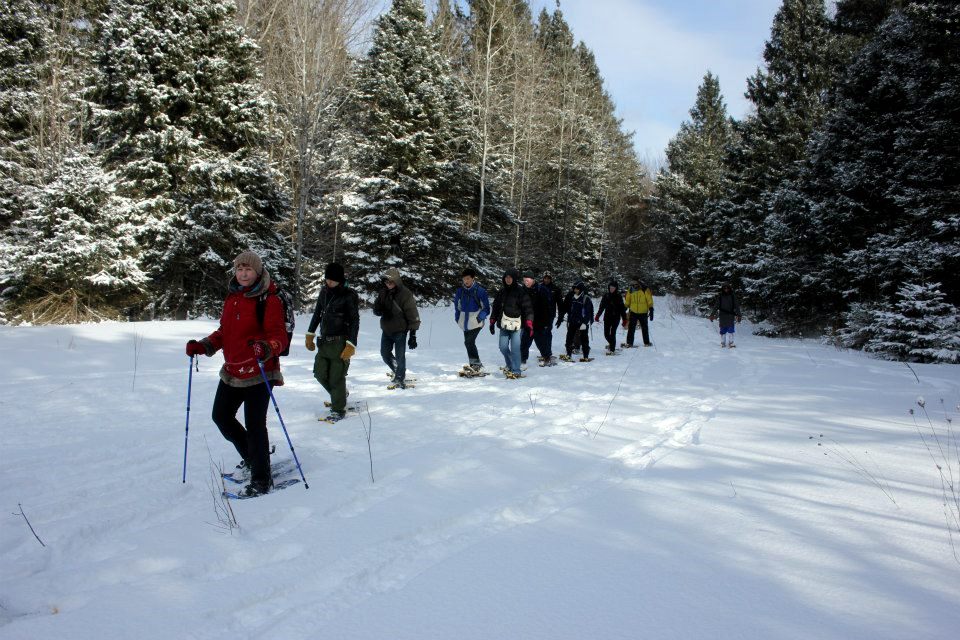 EVENT DETAILS

Join us for some WINTER FUN on the snow, as we spend a whole day out of the city to enjoy Canada's great outdoors during the LONG winter season!

This is definitely a great way to stay in shape and beat the winter blues in a relaxed, yet professional setting. Our CHARTERED COACH BUS will shuttle us from Toronto's Dufferin TTC Station to scenic Arrowhead Provincial Park in Huntsville, 250 Km from the city.

DATE: Sat, February 24

TIME: 7:30AM - 7:30PM

PRICE: $92.50 (Park fees & passes incl.)
BOOKING: Registration for this winter trip closed on February 14th!
EVENT CATEGORY:
Guided snowshoeing adventure
DIFFICULTY LEVEL:
Beginner – Alllevels welcome!

MODE OF TRAVEL:
Chartered Bus (Highway Coach).
WHAT TO BRING:
Water (at least 1 L), lunch, snacks, appropriate clothing and footwear, hat, camera, cellphone,cash for personal expenses and/or donation to TorontoHiking, enthusiasm.
POST-EVENT:
N/A
WEATHER POLICY:
In the event of hazardous weather conditions, this trip will be cancelled. The hike leader will monitor the weather forecast and notify all registered members at least 24 hours in advance to confirm or cancel the event (in the event of a light shower or light wind, the trip will not be cancelled.)
If the trip is cancelled, you will have an option to get a full refund, or reschedule for another date, if available.
TOTAL SNOWSHOEING TIME:
3.5-4.0 hours on the trails, depending on overall group pace.
TIMELINE
Meet our group at the bus pickup location below NO LATER than 7:30 AM. You will read and sign a waiver form and then board the bus at 7:45 AM. The outdoor activity will start when we arrive at destination, around 10:30 AM
GETTING THERE* By TTC:
Meet your hike leader,
Walter
Outside the Baptist Church
1140 Bloor St W, Toronto North-West corner of Bloor St West and Dufferin St.
(Dufferin TTC Stn)
*** Click HERE for Google Map ***
* By Car:
Drivers are welcome to join this bus trip by registering and paying the full price. We are unable to meet any drivers at destination for this adventure trip.
PRICE:
$92.50 +HST
What's Included
* Round-trip transport from Toronto aboard a chartered bus
* Park entrance fee
* Guided snowshoeing adventure with an experienced TorontoHiking hike leader
OTHER COSTS:
* Snowshoe rental:
$10
for half day.
* Whatever you eat or drink
RSVP Deadline:
Wed, February 14
Transportation provided by PARKBUS, a Toronto-based company which offers day trips and weekend adventure trips around Canada, established in 2010.
Disclaimer: Our walks/hikes are planned and operated by volunteers. Most group adventures/hikes on TorontoHiking are led by volunteers with several years of experience as hike leaders. However, we make no claims of being professional guides, and take no responsibility for the outcome of any of our activities.