Hiking is better together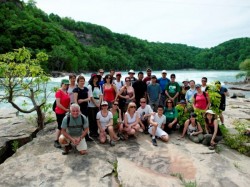 Azim Halani photo
Welcome to our guided hikes programme.
Starting in August, TorontoHiking will be organizing a series of free guided hikes. Our group hikes are open to everyone who loves the outdoors and is in suitable physical condition. Most of our trip destinations will be right here in Southern Ontario, but in time - and if there is enough interest and collaboration - we will also start planning and offering longer trips to other places in Canada and/or abroad.
Our purpose is to give adventure and nature lovers an opportunity to connect with like-minded people of all ages and from various origins and walks of life, while experiencing the great outdoors in a safe and friendly atmosphere.
All our group hikes will be posted on the TorontoHiking Group Hikes Blog. Click HERE to go to the Group Hikes Blog: https://www.torontohiking.com/tohi/blogs/group-hikes-blog.html
Hiking is better together
Adrian Sham photo