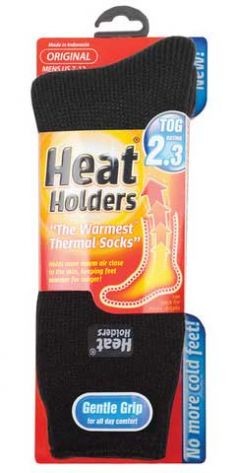 The socks are thick thermal socks with a fleece-lined fuzzy inside and a soft smooth outside. The manufacturer claims that "they are over 7x warmer than regular cotton socks and 3x warmer than ordinary thermal socks. They are better than heated, electric or battery operated socks because you can just put them on without fussing with batteries, wires etc."
Normal socks have a TOG rating of 0.33 while an ordinary thermal sock rates a 0.89 TOG. By comparison, these socks have a TOG rating of 2.34. The TOG rating is a scientific measurement of the thermal resistance of textiles.
There are three reasons for this high rating. First the advanced thermal yarn provides high performance insulation with superior mositure wicking. Second, the extra long looped cushion pile traps more warm air. Lastly, the fuzzy brushed inside holds more warm air against the foot.
The socks feel very comfortable on the feet and go halfway up the calf. The top band is just tight enough to keep the sock in place and they are definitely not tight to the feel.
I have worn the socks walking around downtown Toronto in the cold and they are very comfortable because in addition to keeping your feet warm, they are quite thick and provide a cushioning effect. The instructions suggest rolling back the socks when placing on the foot to ensure the loops do not catch on the toes but I have not found this to be a problem.
I washed them with some shirts, jeans and black undies and they went into the dryer with everything else on a permanent press setting and they emerged in like new shape.
If your feet get cold at night sitting inside, these would be a good addition to your wardrobe. I have yet to wear them hiking in very cold weather, but my experience so far leads me to believe they would be a better choice than regular thermal hiking socks. Definitely worth a try.
The socks were purchased at Sears Canada for $14.99 per pair designated for both Men (7-12) & Ladies (8-13) in Black.