Hike Info
N44.11695 W80.12832
21 km linear
5+ h
Intermediate/advanced
NA
Hilly. Long rolling hills providing views and vistas with rivers and streams. Some road walking on road allowances and roads (mostly dirt roads very lightly travelled.) Rough trails in Pine River area.
Free parking
None
At Mulmar Hut (006); lookout bench (008); benches (010); sloped ramp at Pine River fishing pond (015); Bell lookout (016)
21 Jun 2010, 29 Jun 2010
Not wheelchair accessible
See Trail updates for changes to L38 & L39 hikes. August 2018: Trail updates by Peter Albert -see comments below.
NA
Pine River fishing pond; Bell lookout
Unknown
Boyne River Valley to Pine River

The Boyne to Pine Rivers hike takes place in Mulmur which is a beautiful Dufferin township that straddles the famous Niagara Escarpment. Renowned for its natural beauty and scenic hills, it is an area of rolling hills, views and vistas, rivers and streams. Provincial parks, including the Pine and Boyne River systems inhabit the area. Mulmur and Mono are dominated by the Nottawasaga river system, which has its headwaters in Melancthon. Two of the Nottawasaga's tributaries, the Pine River and the Boyne River, rise west of the Niagara Escarpment and flow in an easterly direction.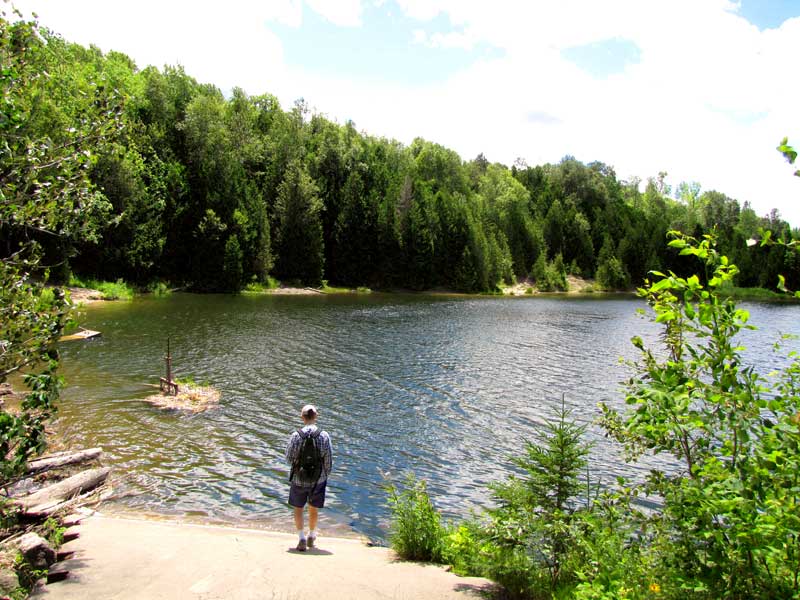 Dufferin County is called "Headwaters Country" with good reason - 5 major river systems, the Nottawasaga, Grand, Credit, Humber and Saugeen River Systems all have their headwaters in Dufferin. The Mulmur Hills present a dramatic natural feature, particularly during the time of the fall colours. The Pine River area is rugged terrain that takes you to the shores of the huge Pine River fishing pond and climbs to the Bell Lookout for a great view of the pond and the surrounding valley.
Dufferin County takes in the central and northern most reaches of Headwaters. The County consists of three towns: Mono, Orangeville and Shelburne, and five rural townships: Amaranth, East Garafraxa, East Luther-Grand Valley, Melancthon and Mulmur. Over half of the County's population lives in Orangeville, the heart of Headwaters. The beautiful Niagara Escarpment forms a dividing ridge through the County. It is easily accessed via the Bruce Trail or the Mono Cliffs Provincial Park. Other highlights of the County's natural heritage are the Grand River, a Canadian Heritage River, Luther Lake and Marsh and the Nottawasaga river system.
This hike continues the L38 Mulmur Hills Hike ends and extends it northward to 15 Sideroad. The highlights of this extension hike include the beautiful Pine River and the large scenic Pine River Provincial Fishing pond. An easy climb up the Bell Lookout trail brings an amazing panorama into view. This is picture postcard country. This is a very long hike (21 km) one way so some car jockeying would be necessary to reasonably carry out this great hike.
Share a comment, photo or experience about the above article in the comment box below.
For other posts, please use our
Members Blog
.
Login at top of each page.