Hike Info
N43.93445 W80.08362 at Hurontario Road.
8.3 km (on Vicki Barron Lakeside Trail)
3 h at leisurely pace including lunch
Easy on flat terrain
119 m
Essentially flat and obstruction free. Wide gravel paths, very gradual slopes, many wooden boardwalks and wooden bridges.
Parking in lot at end of entrance roadway past pay kiosk; open daily from 6-8 am to 6-9 pm depending on season. Fees: adults $5, children $3, seniors $4 (plus tax.) Access to the Vicki Barron Lakeside Trail only is free and can also be accessed at waypoint (003).
Washrooms, benches, picnic tables, BBQ rentals,bait & snack shop, boat launch, boat, canoe paddle boat rentals, more.
At waypoint (006) plus many other places
07 Oct 2015
Wheelchair accessible by design
None
You may lengthen the outing by trying a few additional trails or water activities.
Open jan 1 - Mar 22 8 am - 6pm. $5 vehicle self-serve fee. Ice hut/fishing rentals, skating rink
The Site
Island Lake CA
Picturesque Island Lake Conservation Area is located in the rolling hills of Dufferin County in the Towns of Orangeville and Mono, and provides four seasons of recreation. It's 332 acres of lake, wetland, forest and meadows play an important ecological role in protecting the headwaters of the Credit and Nottawasaga Rivers . Part of a six kilometer long series of vibrant wetlands and a source of upwellings of water from underground, this area feeds cool, clean, naturally-filtered water to these regionally important river system. Island Lake Conservation Area (ILCA) was one of CVC's first land securement projects which began in 1957. Formerly known as Orangeville Reservoir Conservation Area, ILCA was created with the construction of two dams in 1967. The reservoir was designed to maintain water quality and quantity through controlled outflows into the Credit River and to provide an outstanding recreational resource for the headwaters region.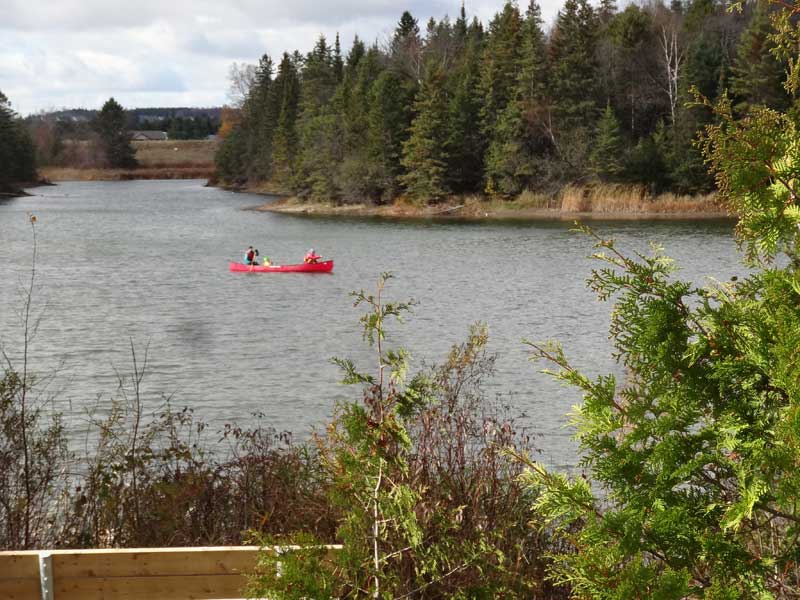 Island Lake

Today ILCA is one of CVC's largest conservation areas spanning 329 hectares (812 acres) and is characterized by a large reservoir lake surrounded by wetlands, upland forest, plantations and meadows. Water dominates ILCA in the form of bogs, marshes, rivers, creeks and lake itself. These wetlands make up part of the provincially significant Orangeville Wetland Complex and act like a filter, purifying water and soaking up nutrients. Island Lake's varied landscapes lend themselves to interesting and educational hikes and outings. The lake is rich in life with healthy fish and wildlife populations, and abundant underwater plants. On shore, deer, red fox, raccoon, porcupines and even flying squirrels make their homes. Osprey, great blue herons, mallards and many other bird species are seen at Island Lake throughout the summer, as are painted turtles and leopard frogs. In spring and fall, migratory birds pause briefly, taking advantage of the diverse habitats and provide an opportunity for birdwatchers to enjoy.
Share a comment, photo or experience about the above article in the comment box below.
For other posts, please use our
Members Blog
.
Login at top of each page.