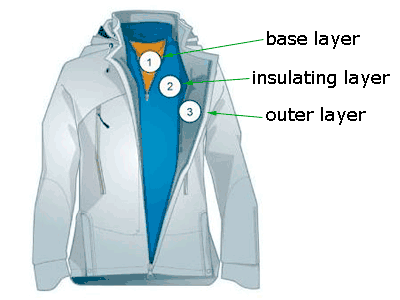 The Basic Layers:
You could walk out the door wearing anything that won't get you arrested, but to walk comfortably while hiking you should learn to layer with layered clothing.
Base layer:
The base layer of clothing is next to the skin and should be of a fabric that draws sweat away from the skin so it can evaporate and cool you without making you feel wet and clammy. Cotton should be avoided as it retains your sweat and doesn't release it to evaporate. For cold weather, look for polypropylene while for warm weather, look for polyester microfibre hiking clothing.
Insulating layer:
In cooler weather, this layer adds the warmth of a shirt and allows you the option of
removing it as you warm up. This layer could be a shirt and pants of wool, fleece, pile, or down. Don't overdo it - you will be warming up as you walk. Hiking pants with removable legs are great for warm weather and can be zipped back on for heavy underbrush areas or mosquito areas. Baggy pants also keep mosquitoes away from your legs better than tight pants.
Outer layer:
This layer of hiking clothing protects you from the elements, and can also be removed as you warm up. A windproof and water-resistant jacket worn loosely is a good outer layer. For rain gear, look for fabric treatments that still allow your body to breathe, such as Goretex or Ultrex. These are more expensive than a rain slicker, but when out walking you will discover you are as wet from your own perspiration as from the rain unless your outer garment breathes. A breathable jacket allows the sweat to evaporate while keeping the rain from penetrating through the jacket.
You should start your walk feeling cool but not cold.
As you warm up, remove the insulating layer.
Still too warm? Remove the outer clothing layer.
You stopped for water and a restroom break and now feel cool? Put on the outer layer again.
By layering you are assured of having enough clothing but not too much. By choosing fabrics that are breathable and wicking, you allow your body to shed excess heat and sweat while feeling dry.
LAYER CLOTHING VIDEO:
Share a comment, photo or experience about the above article in the comment box below.
For other posts, please use our
Members Blog
.
Login at top of each page.