Hike Info
N44.32573 W80.21132
15 km (16 with keyhole trail)
4.5 - 5 h
Beginner/intermediate (based on hike length)
NA
Varied, rocky in places, some hills with a descent down a ski hill and a 500 step climb up to Devil's Glen PP.
Free parking lot
None
At Nottawasaga Bluffs Lookout (waypoint 008.)
01 Sept 2005, 08 Sept 2005
Not wheelchair accessible
None
Taking the Betty Carter ST from 005 to 010 would shorten the hike.
Bluffs lookout; Freedom rock; Best caves
Unknown
Nottawasaga to Devil's Glen Provincial Park
The Nottawasaga to Devil's Glen hike has much to offer. With close to 160 hectares of countryside vistas, hardwood and coniferous forests, open meadows, and a series of caves, the Nottawasaga Bluffs offers a full day of exploration and adventure. The area is steeped in local history - pioneers once toiled to cut a living out of the wilderness. Timber and limestone proved to be big business for this area and as such, small communities like Singhampton and Glen Huron were established.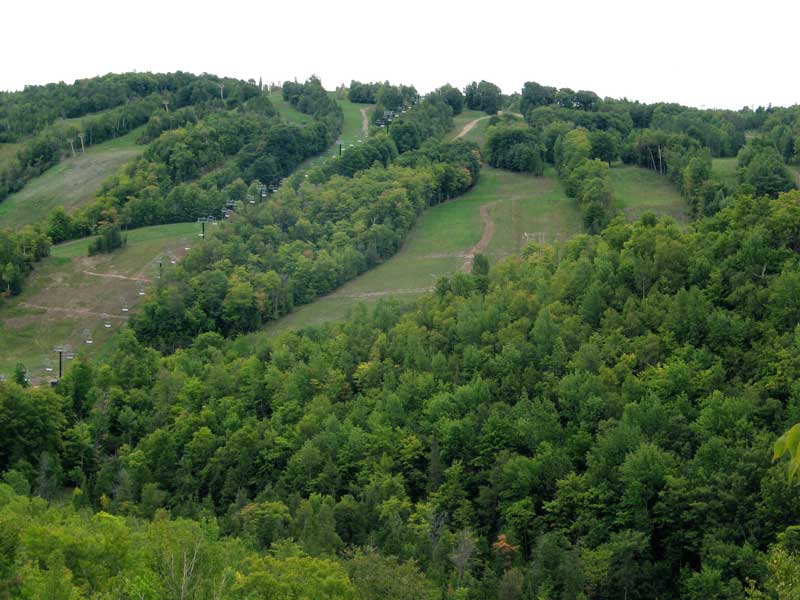 This hike along with L45 Nottawasaga Bluffs and L46 Devil's Glen Mad River are variations of the same hike by selecting different trails to follow in the area and so the trail maps are similar but highlight the particular route for each of these three hikes.
This is an enjoyable hike in that it has many special features like a squeeze through a wall of rock into a cold deep canyon harbouring snow into summer, a visit to a towering rock column (Freedom Rock), a spectacular lookout point, Best Caves, a descent down a ski hill, and a 500 step climb up to Devil's Glen Provincial Park. In addition there is a great observation platform at Devil's Glen PP. This is a linear hike so you will need to station one car at the end of the trail in Devil's Glen PP and drive the other to the starting point on Sideroad 12 & 13.
Share a comment, photo or experience about the above article in the comment box below.
For other posts, please use our
Members Blog
.
Login at top of each page.