Hike Info
N43.710341 W79.962958
about 15.6 for the entire double loop. Suggestions to shorten the hike are in the Trail Guide and below.
4 - 5 h
Intermediate
280 m
This Terra Cotta Conservation Area hike contains no steep climbs but has some hilly sections. Some very nice lookout points and great scenery are evident.
Free roadside. Note that there is additional parking at (008).
None
At lookout points along the trail
26 Oct 2004 14 Apr 2010 Update May 2018
Not wheelchair accessible
Last update 11 May 2018. Trail reopened as the oiginal double loop

Two ways to shorten the hike: (1) omit the Rockside ST loop or (2) go directly from (004) to (008).
Stone marker
X-country skiing; snowshoeing -ski & snowshoe rentals
The Site
Terra Cotta Double Loop Hike
Terra Cotta Conservation Area covers 250 hectares of rocky rugged terrain on the Niagara Escarpment and includes numerous summer and winter trails. The 124 hectare Terra Cotta Forest adjoins the Conservation Area, providing a large wilderness area.
In January 2010, Terra Cotta Conservation Area added a new Visitor Welcome Centre. Here guests can guests can obtain more information on the area, purchase snacks, bait and merchandise and rent cross-country skis and snowshoes. New washroom facilities are also available.
There are many trails to take in the Conservation area and there is a link to the Bruce Trail, as well as trails suitable for cross-country skiing. The trails also connect with those of Silver Creek Conservation Area (hike L02) and Scotsdale Farm (hike L01), just to the south.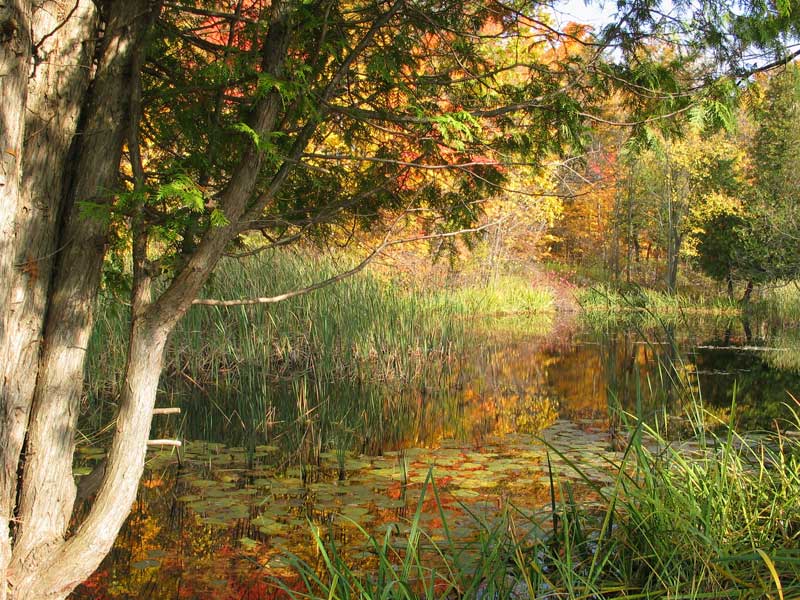 The Terra Cotta Double Loop hike begins at 10th line near the start of the Walking Fern Side Trail and enters the Terra Cotta Conservation Area. The trail heads north on the rerouted Bruce Trail to join the Caledon Trailway, loops back along the Rockside Side Trail to the main trail and then returns on the main trail and back to 10th line.
The Rockside Side Trail heads southwest from waypoint (006). At the junction of Rockside Road and Ballinafad Road, the trail turns ninety degrees and heads southeast along the unopened road allowance of Heritage Road. Due to a trail closure mentioned below, the Rockside ST rejoins the main Trail at waypoint (009).
As of May 2018, the double loop has been restored and the trail closures reopened!

What makes the Terra Cotta Double Loop so interesting is that it makes it's way through the Terra Cotta Forest Conservation area. The area has recently been transformed back into its natural state through reforestration of cleared areas and by removing the concrete pool and replacing it with a beautiful wetland. What's left is a great network of trails that offer something for all levels of hikers to enjoy in a natural environment.
Share a comment, photo or experience about the above article in the comment box below.
For other posts, please use our
Members Blog
.
Login at top of each page.